A Stitch in Time Saves Nine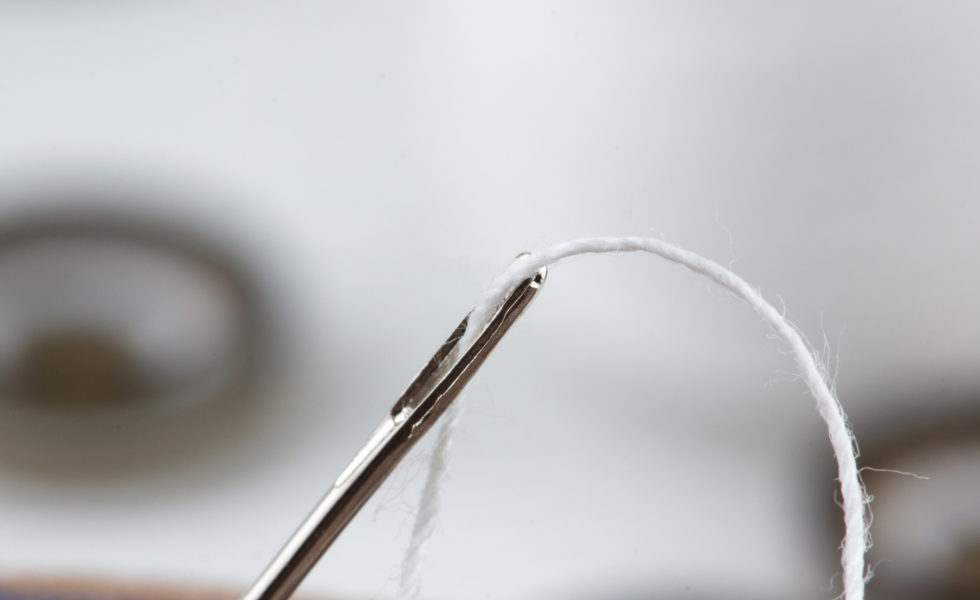 At a recent class on Stress Management for Teens, I used the phrase, "A stitch in time saves nine" … and from the way they were looking at me, you would have thought I was from Mars with two heads.  Apparently they were not familiar with that phrase.  They must not do a lot of their own mending … or something.
The point I was trying to make is that it's easier to address a minor situation than a major one, so good idea to implement these techniques before the situation gets so out of hand.  This is as true for physical healing as it is for stress management.  It is much easier to work on and heal from something small, than it is to have to address a bigger issue.  Three recent situations come to mind.
The first is a friend who got a splinter in her finger.  She removed it, but didn't do much of anything else until she noticed one day her finger was hot and looked down and saw that tell-tale line down her hand.  She ended up in the hospital with blood poisoning.  The hospital intervened with heavy-duty antibiotics and she recovered.
The next is a client who was also working in the garden and got a cactus splinter in her finger.  She did regular first aid, but didn't mention the splinter to me during our regular sessions, because she thought it was too minor to bring up.  Unfortunately, it got infected so she went to her doctor and got antibiotics.   After the first round of antibiotics didn't work, she got a second round.  At that point she mentioned it during our phone session, and the appropriate protocols were included in that and future appointments.  Strengthening the Immune System.  Microorganism protocol.  Rapid healing of a wound protocol.  The swelling and infection in her finger made a dramatic turn around, and the pain and discomfort disappeared.
The last person is a student who took Level I Basic Pranic Healing.  On the first day of class, right after we covered the Pranic First Aid protocol, she got a paper cut on her finger during the lunch hour.  Before the afternoon session started, we worked together for a few minutes using Pranic First Aid on the papercut.  When she began, the cut was red and puffy looking.  As she continued the process, the redness was actually disappearing before our eyes, and the edges of the papercut were binding together.   I remember her glancing up at me with a slightly freaked-out look on her face, because she could not believe what she was seeing.  I assured her that this was just her body healing itself  … really quickly … because she was optimizing the energy that it needed to do so.
So you could say that the Pranic Healing version is "A protocol in time saves nine" or something to that effect!  And while it is great to know a Pranic Healer when you need the help, it's even better to BE a Pranic Healer — so you can do what needs to be done right there on the spot.  Because the finger you save might be your own!!