Level I Class
---
---
In PRANIC HEALING® Level 1, you learn the basics of working with your energy aura, including learning to "scan," or feel the energy, to "sweep," or clean away congested energy, and to "energize," or supplement areas in your aura that have a pranic deficiency. You begin by learning to activate the energy centers, or "chakras," in the center of your hands. This enables you to become sensitive to prana and scan a person's – or your own – energy field to identify blockages and then cleanse, energize and revitalize the area with new prana.
PRANIC HEALING® has been taught to doctors, nurses, massage therapists, acupuncturists, chiropractors, shiatsu practitioners, and many others in the healing field. It has allowed them to heal confidently and consistently in the shortest learning time possible. These professionals find PRANIC HEALING® very effective and easy to apply.
Here are some of the other topics covered in PRANIC HEALING® Level 1:
Energetic anatomy: You will learn to work with the network of chakras, meridians and auras to accelerate the healing processes of your body.
Preventive healing: You will learn to remove the negative energetic patterns of a disease to prevent it from fully manifesting as a physical ailment.
Self-Pranic healing: You will learn to apply these healing techniques to accelerate your own healing.
Step-by-step techniques for ailments related to your:
respiratory system, e.g., asthma
circulatory system, e.g., heart ailments
gastrointestinal system, e.g., irritable bowel syndrome
musculoskeletal system, e.g., arthritis and back pain
reproductive system, e.g., menstrual problems
You'll also learn remedies for such common problems as migraines and sinusitis.
Additionally, you'll learn to apply distant healing to loved ones who are not present in the room with you.
All PRANIC HEALING® courses are interactive, which means that you learn by actually performing the techniques and exercises in class – on yourself and those around you. During class, all the principles will be explained thoroughly and you will practice the techniques exhaustively so you will be confident in your ability to produce positive results when you finish the course. PRANIC HEALING® Level 1 is a prerequisite to all other courses.
---
Liza Bu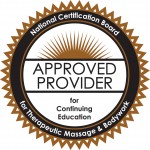 rney is approved by the National Certification Board for Therapeutic Massage & Bodywork (NCBTMB) as a continuing education  Approved Provider. #571 thru 7/15/2020.
This course is approved for 16 CE through NCBTMB.
---
Please register for the weekend class using this form:  click here, and send it in with a $50 deposit.  I appreciate advance registration, and ask that you have your form to me at least 5 days in advance of class.  If you need to cancel your registration, please contact me and we will work out a full refund of your deposit or transfer your registration to the next scheduled class date.
"Thank you for all  the information you presented during our [Level I] workshop last weekend as I am finding it personally validating.    I feel it will be very useful for me in keeping my own energy cleansed as well as sharing it with interested friends and family.  It is gratifying to see the much needed awareness surfacing about the unseen energy that surrounds and affects us so acutely."  —

"I took the Level 1 Pranic course from Liza Burney in the Spring of 2014.  It has been a gift for me and my horses.  I use the skills I learned in the course every day!  My horses love the energy work and it has allowed me to detect and treat subtle health issues before they developed into problems that would prevent me from riding." -K.L., Portland, OR

"Thank you Liza! I appreciated this Level I class weekend so much. I had a great time learning with everyone! I have been on a high since the class from all the energy work and it has made such a noticeable difference in my daily life. I can't wait to learn more. …  I can't tell you how much it impacts my life in a positive way. Thank you again for the amazing experience!" -A.P., Seattle, WA

"I really enjoyed the Pranic Level I class taught by Liza Burney. She has an open welcoming style that allowed the class to processes the information the way we needed, while also staying on or ahead of schedule. Thanks."  -D.S., Portland, OR

"Thank you for a thoughtful and warm workshop!   I have already begun using the protocol in its simple form.  I'm so excited to have this as a ancillary healing protocol to my work. It is so powerful!" -L.T., Redmond, WA