Are you a Doctor, Nurse, Lawyer, Massage Therapist, Chiropractor, Bodyworker, Hairdresser, Physical Therapist, Social Worker, Counselor, Acupuncturist or anyone else who works closely with people, especially in a healing context?
Have you ever felt tired or drained after a long day at work? Or what about feeling heavy and nauseous after listening to another person's problems?
Are you the primary caretaker of another family member?
Do you take on the stress of your clients?
Does your client feel better, but you feel worse?
Do you literally feel your client's pain?
Are you sensitive to dirty energy in a room?
You may be experiencing energy transference.  You can eliminate and prevent this, which is the idea behind "Energy Hygiene."
Learn the simple, step-by-step approach of Energy Hygiene, which is the practice of keeping your energy body as clean and charged up as possible through special physical exercises, the use of salt as an energetic cleansing agent and numerous other techniques. Most people feel their personal energy surge when they begin practicing energetic hygiene regularly.
Learn how to not absorb the energy of your clients.
Practice techniques to release energy that has already been absorbed.
Understand the process of disconnecting energetically from another person.
Experience the benefit of an energetically clean treatment room for yourself and for your client.
Practice the techniques in class so you can be confident in applying them immediately.
You will be taught the powerful "Meditation on Twin Hearts" to calm your emotions and experience inner peace and a sense of divine connection.   Some Benefits of Meditation:
Inner Peace and Joy
Heightened Intuition
Greater ability to handle stress
Energy and Inner Strength
To Know your Self!
Note: This is a great workshop for people who are health care providers or caretakers of family members, although everyone can benefit from this information.  Bring your partners to this powerful workshop for immediate application and results!
---
NCBTMB – Liza Burney is approved by the National Certification Board for Therapeutic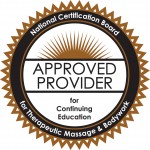 Massage & Bodywork (NCBTMB) as a continuing education  Approved Provider. #571 thru 7/15/2020
This class is approved for 2 hours of credit.  Certificates are $25, please make arrangements in advance.
---
Liza Burney, owner of Heart to Heart Healing, located in Portland, OR, has been studying subtle energy for over fifteen years and is a frequent speaker at events and Expos on a variety of energy healing topics.  Pranic Healing is respectful of all religions and philosophies.
To register, please sign up here.  Class is free!