We may not be able to control the stress of the holidays, but we can control how we respond it it. Come learn some simple yet powerful energy healing techniques to 'dial down' holiday stress so you can relax and enjoy yourself!
In this special Energy Healing class, we will learn a 'no-touch' technique for stress relief. Often referred to as "acupuncture without needles," Energy Healing is very effective, is easy to learn and easy to use. Come and discover your innate ability for healing with a technique that is drug-free and can be used anytime, any place, without any special tools.
This is not your ordinary sit-down lecture; you'll be practicing each of these skills as you learn them. The specific energy healing modality you'll be learning is Pranic Healing. Pranic Healing is a no-touch healing technique that offers specific, tested, step-by-step procedures for stress relief! Pranic Healing complements Western medicine as well as other healing modalities.
Pranic Healing is based on the principle that, in addition to our physical body, we all have an energy body. This energy body acts as the template for the physical body, so when the energy body is out of balance, the physical body will reflect that by manifesting a "symptom." This practice provides us with ways to keep the energy body in balance. As a result, the physical body heals itself, sometimes at an amazing rate.
According to Ms. Burney, "Many people have the idea that in order to do energy healing, a person has to have some 'special' talent. That is simply not the case. Anyone can do this. My goal is to present this information in a way that is straightforward and makes sense, not as some mystical or 'supernatural' process that we can't understand. There's lots of scientific research behind this work, and I know if I want to see the research, other people do too. My strong professional background as an attorney definitely influences my presentations and the teaching I do. "
Liza Burney, owner of Heart to Heart Healing, located in Portland, OR, has been studying subtle energy for over fifteen years and is a frequent speaker at events and Expos on a variety of energy healing topics. Pranic Healing is respectful of all religions and philosophies.
To register, please RSVP with New Renaissance Bookstore at 503-224-4929.
---
NCBTMB – Liza Burney is approved by the National Certification Board for Therapeutic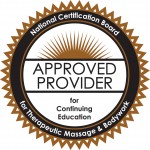 Massage & Bodywork (NCBTMB) as a continuing education  Approved Provider. #571 thru 7/15/2020
This class is approved for 2 hours of credit.
Certificate is an additional $25.